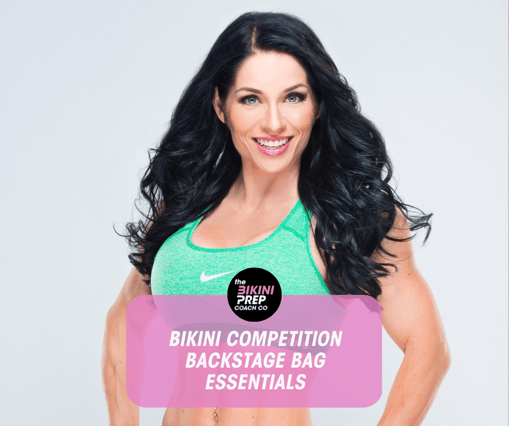 A comprehensive list of everything you need to carry on Bikini Competition Day.
Your competition day has finally arrived, and you have the basics covered.
Tan: Check
Robe: Check
Flip Flops: Check
Hair & Make-Up: Check, Check
Now it's time to head over to the contest venue. You are just a few hours away from setting foot on the main stage. You are a bundle of nerves, and your brain is running on a low carb diet. The last thing you need is to forget something important. Well fear not my friends, I have you covered.
I have put together a comprehensive list of everything needed for the big day. Some things are pretty straight forward, and others, I will provide some color and associated recommendations.
It all begins with the right bag. I recommend a small rolling suitcase. If you use a duffle bag or backpack, it will weigh you down as you move from place to place. A suitcase also makes it easier to locate items when needed.
Here is the list of items you should carry:
1. Competition Suit
The right suit can make all the difference. I recommend CJ's Elite Suits or Angel Competition Bikinis
2. Competition Shoes
Make sure they are relatively comfortable, and you have practiced your routine in them. I recommend Glam Competition Jewelry & Shoes
3. Your Competition Number and Competitor Tag
This will be provided by the promoter.
4. Competition Jewelry
The right bling can help you stand out on a crowded stage. Glam Competition Jewelry will set you straight.
5. Bikini Bite, Posing Oil, & Latex gloves
Most promoters are great at providing backstage services, but it's always a good idea to plan ahead for tanning, gluing, and glazing.
6. Makeup
Pack everything you applied to your face, except for primer and face lotion. You may need to make minor adjustments before getting on stage. If your makeup was professionally applied, pack blotting powder, blush, mascara, and lipstick/lip gloss.
7. Eyelash glue
Sometimes strip eyelashes act up and drive us crazy!
8. Food
Pre-measured meals for the day. Most competitions last all day, and sometimes there isn't enough time between prejudging and finals to return to your hotel.
9. A Cooler
Keep your food fresh: Six Pack Bags has some outstanding products.
10. Water
Some competitors stop drinking water a day before the competition. I don't recommend such extreme measures. Water is Life! Drinking in small, well-timed amounts can help you avoid dehydration and a potential trip to the hospital. Always take more than you need.
11. Headache Medicine
It's going to be a long day. Headaches are common. Pack meds you are familiar with.
12. Paper towels/Napkins
13. A Small Hand Towel
14. Toilet Paper
As I said, it's going to be a long day. You won't need an entire roll, but better safe than sorry.
15. Wet wipes
Deodorant/Antiperspirant is not an option for the stage. Wipes will help you stay fresh.
16. Hand Sanitizer
17. Travel Size Toothbrush, Toothpaste, & Mouthwash
18. Tampons
Again better safe than sorry.
19. Hair spray
20. Hairbrush
21. Curling or Flat Iron
Your waves may not last the entire day, especially in a humid climate.
22. A Mirror
Trust me on this one. Bring a small personal mirror.
23. A Small Sewing Kit with Scissors
Wardrobe malfunctions are common backstage.
24. A Small Umbrella
This can be a lifesaver if you encounter inclement weather, and the venue and hotel aren't connected.
25. A Resistance Band
26. A Comfortable Change of Clothes
27. A Light Blanket
Space backstage is often limited. A blanket can help you feel a little more at home.
28. Cash or a Credit Card
29. A Cellphone Charger
30. A Selfie Stick
This will be a moment to remember, and a camera is every competitor's best friend.
31. YOUR COACH'S CELLPHONE NUMBER!!
Words of encouragement, last minute problem solving and adjustments go a long way on competition day.
And, there you have it. What do you think of my Competition Backstage Bag Essentials? Please provide comments below if you feel anything is missing.